TTPL is a leading Spray Cooler manufacturer in India having more than 10 satisfied oversees customers. TTPL offers the most versatile design of Spray Cooler having several innovative features.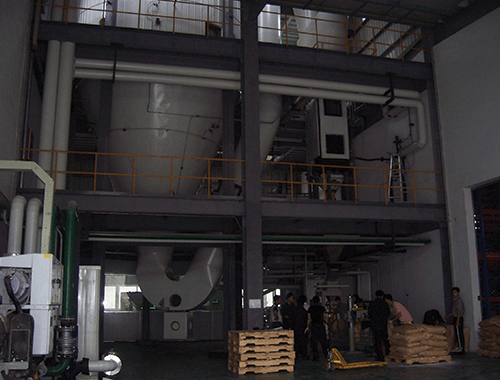 Working Principle
The process of transforming molten liquid material in to the spherical solid particles using cold air is called as Spray cooling.
Molten liquid is sprayed in to the stream of uniformly distributed cold air. The molten mass solidifies to produce granules of desired specifications.
The granules are separated in high efficiency cyclone. The air free from granules is recirculated.
The spray cooled granules are further cooled in specially designed Bulk Flow Cooler to avoid lump formation during transportation.
Superior Features
Particle size in wide range (250 to 1000 microns) can be produced in the Spray Cooler
Most energy efficient system.
Uniform powder particle size
High efficiency cyclone separator for powder collection
Almost nil powder sticking inside the tubes.
No nozzle chocking.
Specially designed Bulk Flow Cooler for Post cooling
Single point powder collection.
No nozzle dripping during starting and stopping of plant.
Highest level of instrumentation and the control loops are provided for maintaining consistent powder quality.
Instrumentation for recording and logging of various vital parameters such as pressure, temperature and flow rate is provided.
Fully automatic plant with PLC and SCADA based control system
Applications of Spray Cooler
Palm Stearine
Encapsulated materials
Poly ethylene Glycols
Fats
Hydrates
Glycerides
Stearic acid/ Stearates
Organic / Inorganic materials
Waxes