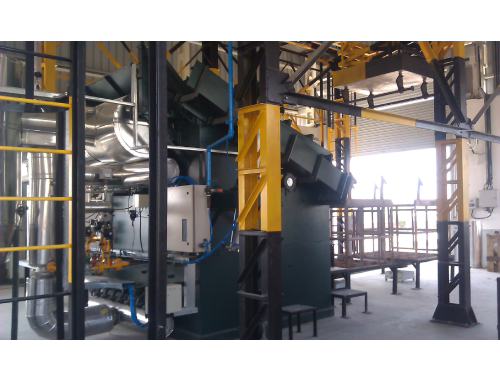 TTPL has developed energy efficient and environment friendly thermal paint stripping plants which are proven as most economical and effective method of paint stripping. Paint stripping plants are also called Jig cleaning units or grating cleaning plants and can be used for Jig cleaning, skid cleaning, grating and hanger cleaning.
Working principle
Air-Gas mixture is injected from bottom in a chamber filled with hot sand
The volatile organic matter in paint gasifies and gets completely burnt.
The rubbing action of hot sand removes the inorganic matter on jobs completely without any distortion.
The particulate matter in exhaust gas is removed /cleaned by Bag Filter.
Superior Features
Less Fuel Consumption- Minimizes external fuel consumption result in Low Running / Operating Cost
Environment friendly process with Bag House ( Patented Design ) for flue gas cleaning
Operator friendly plant; well instrumented with appropriate safety interlocks
Easy to operate Semi-automatic plant with simple operational methodology
Easy to maintain.
Services and spares are easily available.
Gaseous fuels (LPG, CNG) can be used.
Tailor Made Models facilitates various sizes of jig cleaning, hanger cleaning and skid cleaning.
Fast Cleaning Cycle – Simultaneous operation of burning and rubbing.
Uniform heating avoids damage or distortion of job.
Minimal labor needed to operate – Normally 1 operator & 2 workers.
No High Pressures – the entire plant is runs at atmospheric pressure which minimizes potential risk hazard of high pressure system.
No Odor – LPG gives clean combustion & Odorless operation without secondary incineration.
No Chemical requirement.
No Sludge generation.
Effective Cleaning.
Applications
Automobile Industry
Paints Industry
Plastic Industry (where Injection molding is involved)
All Paint Shops